Government Bid Timelines Decrease Again in 2015
Our research team constantly mulls over our data to look for new trends and emerging industries. These topical insights are all part of our Industry Analysis Series, hosted on Youtube and this blog.
While we look at many industries of interest, we also like to step back and look at procurement as a whole. In 2015, we noticed another increase in the number of State and Local government bids across the United States (more on that number in a future report). More importantly, we noticed another drop in the average amount of time to bid on these opportunities. In sum, there are more bids being issued, with less lead time per bid.
The Facts
The window from release to due date for Federal, State and Local bids in the USA dropped to 11.7 days in 2015, from 12.1 days in 2014.
In 2006, the average time to bid was 22.7 days.
Over the last 5 years, there has been a 36% drop in the average amount of time to bid.
There are fewer long multi-year Term Contracts being issued in favor of smaller purchase bids that are less binding.
"Quick Quotes," bids that expire within 5 days of their issue date, are trending upwards.
"Quick Quotes" have less vendor distribution, fewer bidders, less quantity per purchase, and lower dollar volumes. Arguably, there is less competition with these purchases.
Why is this change occurring
In the last few years, there have been rapid and significant gains in procurement automation through "eprocurement". As we reported back in April 2015, these substantial upgrades to the bid request/RFP process have resulted in the continuing, dramatic decrease in bid processing timeframes. A bid can be released and bid in just a few days for a quick, competitive purchase instead of a locked-in Term Contract.
We extended our initial assessment of timeframes by looking back at the 2015 data. As you'll note in the following chart, we verified a continued decline in bid deadlines in 2015.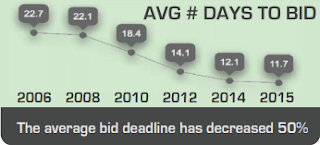 What this means for vendors
Due to the shrinking timeframes, it is even more imperative that vendors receive bid requests and their documents as quickly. One of the benefits of the BidPrime solution is that our robust technology identifies and forwards applicable bid requests in real-time, immediately upon release. BidPrime is also the only service that has software dedicated to comprehensive coverage of "Quick Quotes" that other database and search engines simply miss. Every day matters and can be the difference between winning and losing out on valuable untapped business.
To discuss how we can help you put real-time to your advantage, call us at 888.808.5356 or visit BidPrime.