Fiscal Year End for Many in Education has Purchasing Bells Ringing!
June 30th Approaches for Education - 944 Bid Requests in June!
Once upon a time, during my days working in the federal government, higher education and healthcare, I recollect the annual pronouncements of, "use it, or lose it!" As in, with the end of fiscal year(s) approaching, thoughts turned towards securing those needed resources and ensuring that budgets were exhausted. The alternative? Well, shudder at the thought.
In the United States, June 30th is highlighted on numerous calendars in classrooms, administrative offices, registrar offices, colleges... The end of the fiscal year for many K-12, higher ed, and other public sector agencies is approaching. As a result, major purchasing, including "quick quotes" is taking place, and opportunities are abundant for those ready to act.
State and local spending on education, according to usgovernmentspending.com, and supported by review of various related resources, was approximately $280 billion in 2016. Obviously, federal spending takes that number much farther north. In 2017, estimates show the spending to approach $290 billion.
Today, with the clock ticking on the fiscal year, we again look at procurement activity in Education. This analysis is a more expansive review of the entirety of education-related bid request activity over the past eleven months, aka typical school year.
Note the following infographic. As is usually the case, the bid activity warms up around March and carries through the end of June. The data/research...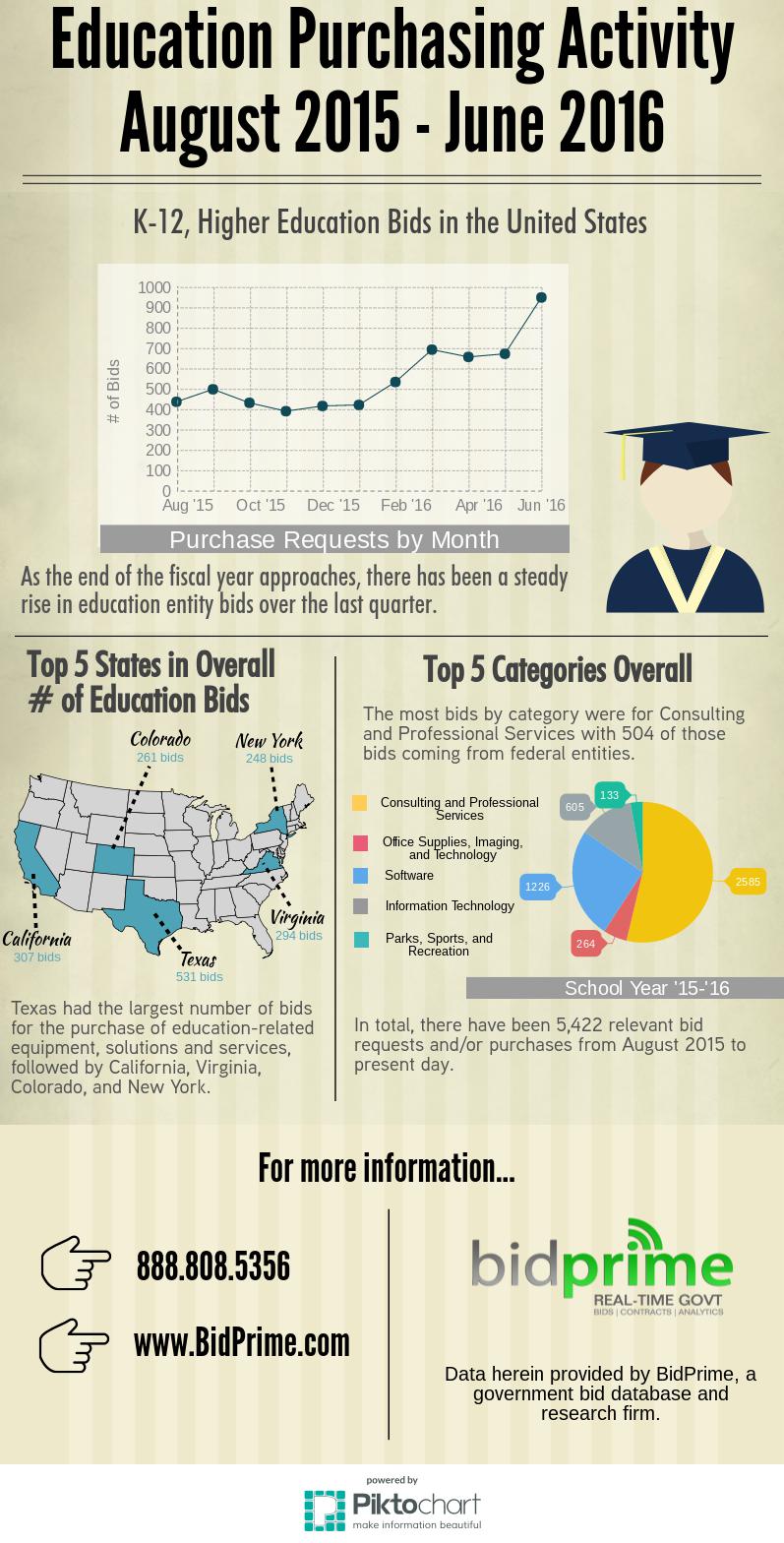 Back in February 2016, our Anna Barnett reported specifically on the purchase requests for classroom technology equipment, services, and solutions. Go here to read, "Classroom Technology in Education Bid Requests".
Sample Active Bids/RFPs
Education
If you aren't sure if these requests are a fit for you or your business, we understand. Of course, we have the bid specifications available for your review. In the event the timing isn't right, what are you doing to prepare for next school year? We stand ready to work with you to be ready for that next opportunity.
For a detailed, historical analysis on education-related bid requests and/or for info on current, active bid requests, call us at 888.808.5356 or visit BidPrime.