School's out for Summer, but Purchasing Remains in Session
BidPrime is seeing prolific bid-and-purchasing activity for education-related industries, equipment, solutions, and services.
Break out the pompoms. We're Number 19, we're Number 19!
In its look-back at 2016, the Organization for Economic Cooperation and Development (OECD) reported that the U.S. ranked 19th and Canada 23rd for public-education spending. The OECD said this spending included "direct expenditure on educational institutions as well as educational-related public subsidies given to households and administered by educational institutions. This indicator is shown as a percentage of GDP, divided by primary, primary to post-secondary, non-tertiary and tertiary levels." citation: OECD (2019), Public spending on education (indicator). doi: 10.1787/f99b45d0-en.
Today, many K-12 school systems, colleges, and universities are wrapping up the 2018-19 school year, with graduation parties filling the social calendars. However, for purchasing officers in education, reverie is the last thing on their minds. Many are busily preparing for the next school year, just a few short months away. Savvy vendors understand that this is an ideal time to identify, pursue, and secure contracts for 2019-20—lucrative contracts.
Budget
Dollars and Cents. President Trump, in his FY 2018 budget, requested $59 billion in discretionary appropriations for the U.S. Department of Education—13 percent less than what Congress authorized in its 2017 annualized continuing resolution. That's a difference of $9 billion. Still, the $59 billion sought by the president represents a huge chunk of change.
The National Center for Education Statistics this month noted that "total expenditures for public elementary and secondary schools in the United States in 2015–16 amounted to $706 billion, or $13,847 per public school student enrolled in the fall (in constant 2017–18 dollars). Total expenditures included $12,330 per student in current expenditures, which include salaries, employee benefits, purchased services, tuition, and supplies." For the full report, go here.
Drilling down deeper into the numbers, we see that local governments spend vastly more on education than state governments do. The following chart published by usaspending.gov illustrates how combined state/local spending will dramatically outpace that of U.S. federal spending on education in FY 2019: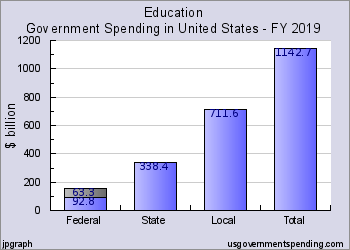 Bidding Opportunities
While education budgets are for good reason often closely scrutinized and managed to the penny, many K-12 school districts right now still have money to spend on products and services, says Michele Molnar. Writing in the May 10 issue of EdWeek Market Brief, Molnar contends this means that there are potential current opportunities for companies selling in the school market.
She's right. The opportunities exist and are indeed plentiful. In analyzing activity in the BidPrime database over the past twelve months, we identified 69,800 bids/RFPs specifically targeted for K-12 in the U.S. and Canada. We also noted 43,200 solicitations from institutions of higher learning across North America.
What do schools solicit and purchase? Easy answer: they solicit and purchase EVERYTHING. Technology, equipment, foodstuffs, construction services, consulting, materials, and on and on the list goes. Rare is the industry bereft of opportunity in education. So what happened, month-to-month, over the past year?
K-12 Bids/RFPs by Month

Higher Education Bids/RFPs by Month

The biggest month for both K-12 and higher education turns out to have been April. That was when total bid-activity peaked.
Oh, and speaking of activity. Remember that it is the prepared and nimble who are best positioned to compete for and earn these contracts. The truth of this reality really hits home when you consider the bid-duration average—for K-12 bids/RFPs, it's 21.7 days; for higher education, exactly 20 days.
ACTIVE RELATED BIDS/RFPs
Education
The overarching lesson to be learned here is that lots of money flows from schools to vendors. That's cause for celebration. So wave your pompoms and let out a hearty cheer—maybe even toss a mortarboard cap up in the air because it's summer, the perfect time to get in the game and start playing to win your share of the education market.
What about my industry, equipment, service or solution? Request a BidPrime Market Analysis and receive a closer look at specific data of interest to you. Simply contact a BidPrime representative at 888.808.5356 or email support@bidprime.com.