How Does 'Docs on Demand' Save Time and Money for Your Business?
Have you ever had this situation? You receive a matched bid result. It looks like it might be a good match for you. You click on it and it leads you to a website that requires you to register or pay to view. We heard this all of the time from customers early on, so we created a feature to eliminate this frustrating and expensive experience.
BidPrime's 'Docs on Demand' helps you and your business save time and money each day, while reducing your stress level.
BidPrime captures over 5,000 newly released bids every single day from over 100,000 agencies in the US and Canada. Many of these bids contain direct access to bid documents and BidPrime provides you access to these documents, with ease, in just 1-click from your emailed bid alert or BidPrime inbox. For the others, that are not already available, all you need to do is click a button from your emailed bid alert and we will research and send an email directly to you with the bid document(s) included.
Challenge of Covering all US and Canadian entities.
Across the US and Canada, there are many different expectations and protocols related to procurement for states, provinces, agencies, offices and departments. BidPrime, and our extended research team, have already preregistered with many agencies, meaning we are able to leverage tens of thousands of registrations to quickly and efficiently locate documents for you.
Registrations only take us so far. Many agencies do not have an efficient management system to publish and share bid documents with suppliers. For these, we often have to email or phone agencies in order to receive the bid specifications. We do all of this for you as part of our 'Docs on Demand' service.
Common Questions:
Why aren't the documents always available?
Great question. We are able to view almost any bid specification through federal and state laws for public procurement and open records. There are some cases where we are unable to provide these documents. Most often, these are cases where the agency requires in person pickup or deposits for construction and design blueprints. In other cases, it may be a private entity posting (a charitable organization, private university, or prime contractor seeking subcontractors), to which open records laws do not wholly apply.
How long does it take to receive documents?
Many of the requests are resolved on the same day, while the remainder typically fall within a 1-2 business day window. Once your request is received, our team will obtain the information by following download instructions within agency portals or we will send out requests to the purchasing officers.
How does BidPrime manage all of the incoming and outgoing requests?
Many of our customer requests are resolved through our AI-based research solution. This process expedites the process of locating the appropriate contact information and reaching out to the designated recipient. At that point, we follow various well developed methods to collect the requested information in an efficient manner.
What happens if a purchasing officer doesn't respond?
There are instances when procurement officers are not quick to respond and turnaround times increase. In those cases, we take additional follow up actions (emails, phone calls, etc…), so we will get the information to you as soon as possible. The rules, requirements, and processes for public sector entities can vary widely. We deal with the complications, so you can focus on more important matters.
Trends
Bids often have shorter time windows to respond.
We have noticed the turnaround times on bids, from publish to award, are shrinking dramatically. Some bids are only available for 3-7 days. Time matters. Every 45 minutes, BidPrime scans for and pulls new opportunities. The sooner you receive the bid, the quicker you can effectively and appropriately respond to the opportunity.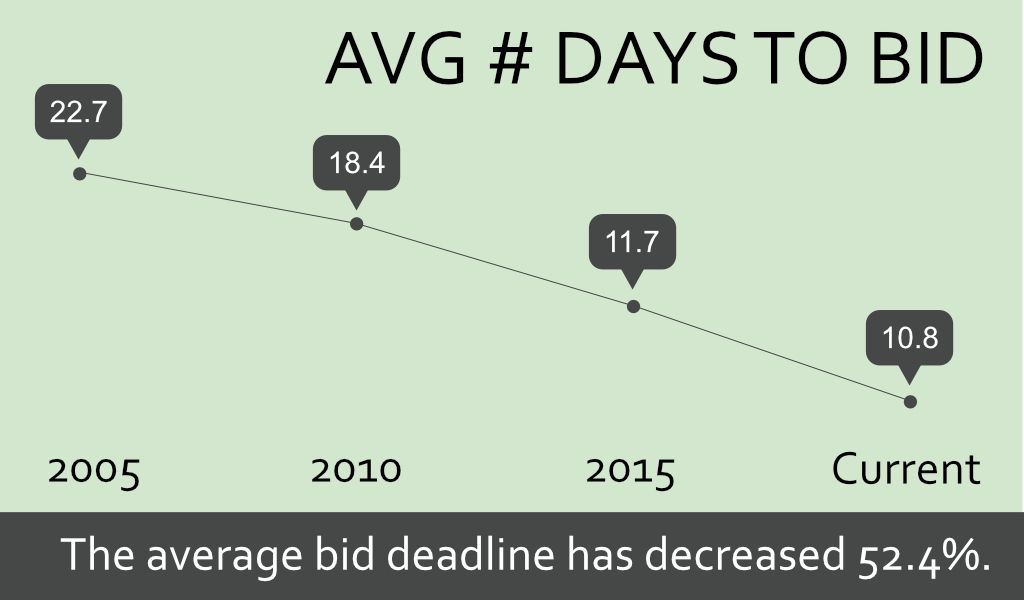 Planholder Lists
As time has gone by, more websites ask for plan holder information, including company name and contact information in order to access a bid. To register, sometimes you have to call, email, or take a hodgepodge assortment of other steps.
Classifieds
Some of the solicitations are published through classified ads, which means A LOT of text. You have to scour the information to determine if there is an email address, if it links you to another website, or some other list of mandatory, next step(s). Amazingly, there are times when the classified ads do not even include important information! This is another example whereby BidPrime's system and service will do all of the work for you. Instead of trying to dissect that information, just click the 'Request Documents' button. BidPrime will research and contact the agency to obtain the bid specifications.
Slow Registration Turnarounds from Agencies
If you are lucky, all you have to do is type in your information, select your commodity codes, and your registration is done. Unfortunately for the user, sometimes it takes a few days for the entity to process the registration request.
We are very public about our beliefs in the need for transparency in government. We are convinced that public information is just that, public. Anyone should be able to access this public, not private, information. We are also armed with the ability and processes for submitting Freedom of Information Act (FOIA) requests. In those cases, the purchasing officer is legally bound to respond and provide those bid documents to us, in turn, you. If you have questions, we will guide you through the FOIA process.
Conclusion
With BidPrime's expertise, and the power of our technology, we will eliminate the time you spend registering to view bid documents. We have saved clients as much as $3,400 in annual vendor download fees.
Put BidPrime's resources, processes, knowledge and experience in working with government websites to use. Eliminate your costs, time waste, and frustration. In bidding, time matters.
For more information about the 'Docs on Demand' feature, please call us at 888.808.5356 or visit BidPrime.