FY17 Coming to an End. Federal Government in Buy Mode.
In this video, Bill Culhane reminds everyone that Fiscal Year 2017 is coming to an end on September 30th, 2017. With the clock ticking, U.S. federal agencies are actively working to exhaust FY17 budgets. As has been the case for the past many years, requests and purchasing by federal agencies, large and small, really heats up at this time of year.
People in these organizations, from top to bottom, are addressing needs and wants to avoid budget surpluses. Is your business positioned to take advantage of this procurement activity?
What have we seen? Bill mentions, as of this second, there are 1000's of active bid requests from the wide array of federal entities. Federal agencies have requests out for everything from printers, to parts, to planes and predictive analytics, etc… Literally most all equipment, solutions and services conceivable, governments are in active purchase mode. So, we ask again. Is your business ready?
Note: The U.S. federal government isn't alone in seeing the fiscal year come to an end. There are state and local agencies employing the same calendar. Yes, there are a variety of opportunities in these areas, as well.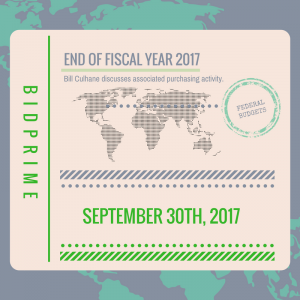 To review the bids (and bid documents) applicable to your business, please call 888.808.5356, or go to our website: BidPrime.