Analysis of Public Sector Bid Requests for Drug and Alcohol Screening and Related
Anyone who has gone through the job application process has likely taken a drug screening, alcohol test, or all of the above. Of course, the need for drug and alcohol screening, alcohol breathalyzers, etc., isn't limited to the workplace. As to be expected, governments in the U.S. and Canada have requirements for related solutions and services.
Possibly, like me, you didn't realize how many public sector bid requests have been submitted in the past twelve months. Municipal, city, county, state, and yes, federal agencies are very active in tapping into the providers within this industry.
To gauge the activity in this industry, we made note of the activity from September 2014 – August 2015. You will see there has been a notable upward trend in the overall number of government bid requests.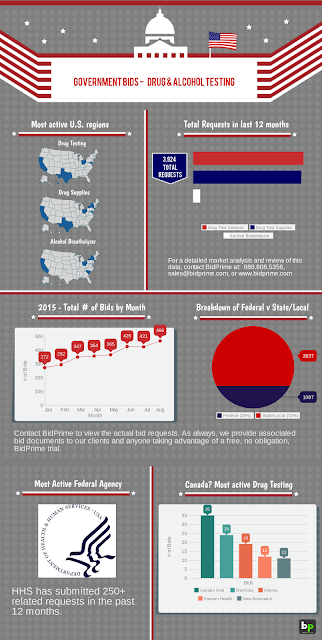 Sample Active Bids/RFPs
Drug and Alcohol Screening
For even more information about this industry and associated government bids, call us at 888.808.5356 or visit BidPrime.