Our Friend Suffers a Loss. RIP Dr. Mwangi S. Kimenyi
Earlier this week, the father of Wes Kimenyi, one of our teammates, passed away after a long illness. The outpouring of respect, condolences, and love for the late Dr. Mwangi Kimenyi and the Kimenyi family has been swift, sincere, and far reaching.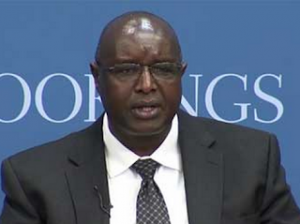 The testimony and examples are endless. Professor Kimenyi lived a life full of accomplishment, leadership, and positive impact. He was a difference maker, not only in his native Kenya, throughout Africa, but clearly on a global scale as well.
A senior fellow at Brookings until the time of his passing, they published a wonderful and thorough tribute to Dr. Kimenyi. In part, "Professor Kimenyi not only cared about the right things, but he was also keen about addressing them and doing so in the right way, no matter how difficult or challenging." Please read more here.

One of the things we celebrate and value is that we are entirely a team. Our success and joy is often collective. We vigorously applaud each other's victories and feel collective pain when one of our teammates suffers. This isn't what makes BidPrime a great place in which to work, but is certainly one of the factors that keeps each of us working and inspiring together. Together. Our friend knows that we stand with him.

I never had the good fortune of meeting Dr. Kimenyi. However, I can tell you that his son, our friend Wes, is an entirely personable, honorable, respectful, and hard working person. Clearly, based on who we have come to know Wes to be, Dr. Kimenyi also had a positive impact on his family and children. I would suggest that this is possibly one of the highest compliments which you can extend to a person. A substantial, lasting legacy.

We thank you for joining us in extending our thoughts and prayers to Wes, his family, and Dr. Kimenyi's many friends, associates, former students, and others touched by him.