How to Customize Your BidPrime Account
In identifying business opportunities, are your wants and needs exactly the same as another business or your competitor across town? What about a competitor on the other side of the country? Heck, we have many clients that have various employees, some in the same office, that have slightly or widely different business opportunity needs. When it comes to government solicitations, quickly and clearly targeting your opportunities is paramount. As Tony Kallas explains below, the answer is customization.
18% of our clients surveyed consider account customization as the most important benefit of our solution.
I, along with the Client Support team, which I'm fortunate and proud to lead, look forward to helping you customize your BidPrime account(s). In the following video, Tony provides details on creating your keywords and exclusionary keywords, selecting your specific location targets, setting up users, and more.
---
'How to Customize Your BidPrime Account'

Our robust user customization tools give you the power to lock in to the opportunities for your business. Along with assisting you with setup and providing consultation, your personalized Account Manager (AM) will:
Assist you with customizing user profiles by state/region or categories.
Provide training for new/additional users to maximize the BidPrime experience.
Facilitate your search customization to ensure more relevant bids delivered through BidPrime's automated alert system.
Develop custom queries for Federal Set Asides, K12 Schools, Higher Ed, Power/Utility Authorities, Airports/Transits, and state/municipalities.
More on the power of Advanced Filtering:
Filter results by region/state, date, industry.
Exclude specific keywords from results
View historical data from expired bids
Search by NAICS, FSC/NSN, CAGE, NIGP codes.
Search by heuristic / predictive search.
Historical data projects future opportunities and term contracts.
Not every role is the same in your business. We get it!
BidPrime makes it easy to have multiple users through our innovative user customization.
Each nationwide account comes with four users and more can be added upon request.
It's simple for you to add and edit users.
You can customize the bids you see by region as well as by state, local and federal civilian or federal military categories.
You are able to enter keywords to filter bids and can further modify your search through the advanced search tool, which allows you to exclude certain keywords.
Every user can save bids to their own inbox and create alerts to notify them of newly matched bids. These email notifications can be customized to specific times for each user.
Any user with administrative access can view bids from all inboxes, including all saved bids.
---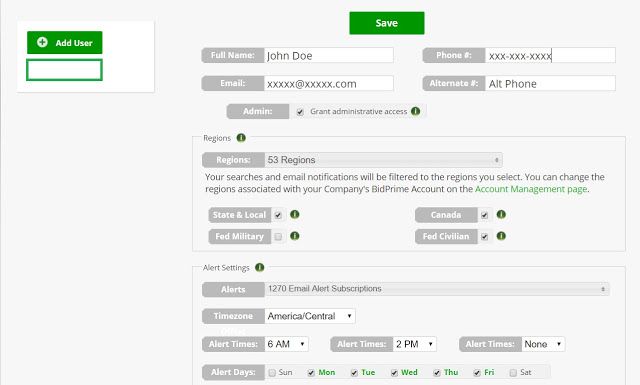 Again, each user receives access to our best in industry client support team, based at our company headquarters in Austin, Texas. Customization and simple to set up. Having multiple users on an account is EASY! to manage using BidPrime.
For more on account customization, call us at 888.808.5356 or visit BidPrime.